boss mini, the revolution of medium size plants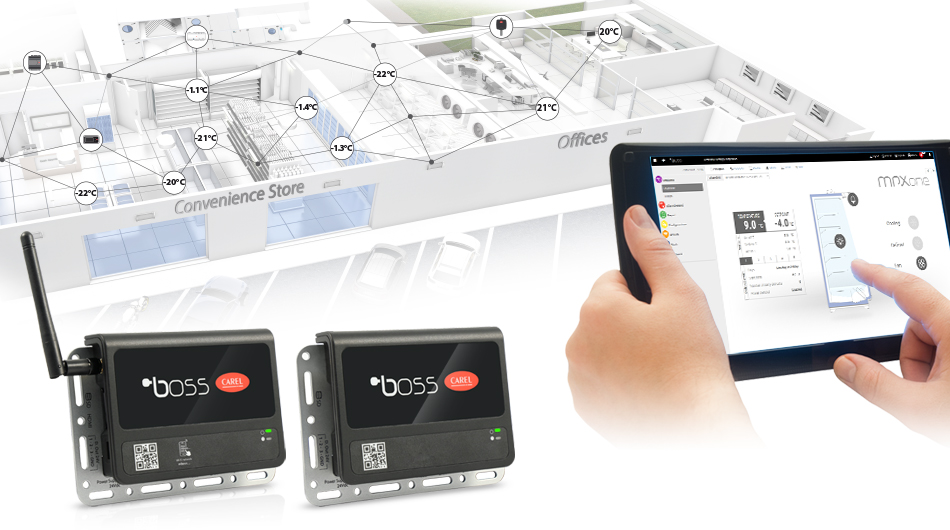 boss mini is the new size in the boss family, for managing, monitor and optimising small sites with up to 50 units, such as convenience stores, petrol stations and small commercial buildings.
boss mini, in its compact dimensions, incorporates all of the advanced features of high-end systems. Smart troubleshooting tools, intuitive site maps and a wide range of system improvement add-ons are just some of the most interesting benefits now available for small-format sites.
boss mini is available in two dedicated HW models for different user interaction needs, making the boss family now fully scalable in terms of features and price, so as to fit all market scenarios while keeping the same user interface and the same functions on all of your sites.
boss mini features its own Wi-Fi direct connection and thus doesn't require any further infrastructure; its completely customisable and fully mobile compatible native intuitive interface allows commissioning and everyday maintenance simply using a browser and a mobile device. Top-class connectivity is also provided on boss-mini by its innovative instant messaging feature. This new alarm notification channel improves service team coordination and response times, for an optimised service level.
boss mini, like the entire boss family, is fully integrated into the RemotePRO enterprise service proposal. Different users can access the IoT system from a higher level, with overall views and global statistics, or directly from the supervisor in the field for more in-depth system analysis, depending on specific needs.

For more information, visit our website and our stand no. 5-306 and 5-308 in hall 5.