Power+ PSD2 - DC Inverter with embedded compressor protection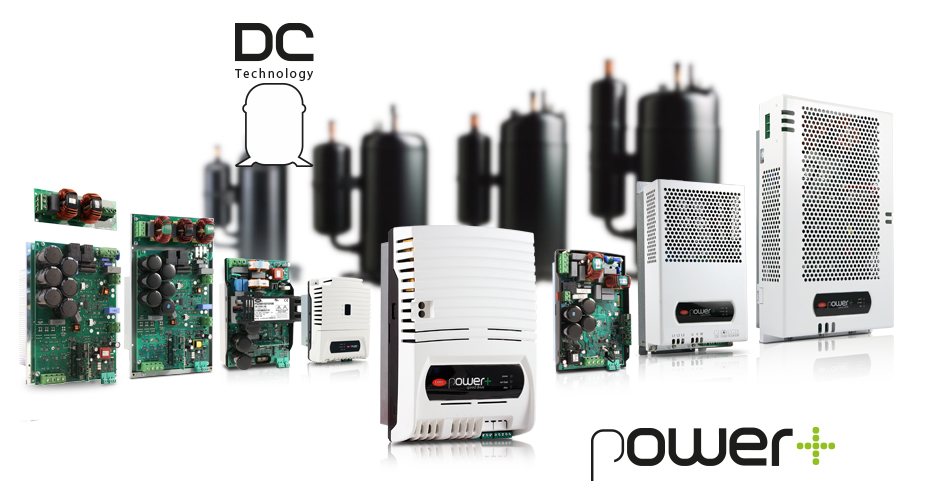 Permanent magnet compressors driven by DC inverters are among the most efficient compressor technologies for HVAC/R applications. CAREL has been helping disseminate this technology in both refrigeration and air-conditioning for more than 10 years, in the most energy-intensive applications such as heat pumps, computer room air-conditioning, condensing units and refrigerated cabinets, bringing energy savings of up to 40%.
It should be stressed that the Power+ products are not simple "inverters" for industrial use, but rather compressor drivers, electrically sized and with optimised logic for use in HVAC/R applications.
Close and constant collaboration with the world's leading compressor manufacturers has allowed Carel over recent years to demonstrate the versatility of its Power+ products, qualifying more than 180 combinations of inverters and variable flow-rate compressors. Together with the pCO and c.pCO controllers, the Power+ products are able to guarantee complete thermodynamic and electrical functioning of the final application.
CAREL's experience in the sector has also made it possible to complete Power+ with exclusive functions aimed at protecting the compressor and optimising the refrigeration system:
| | |
| --- | --- |
| | The STO safety digital input, connected to a pressure switch, protects the compressor and the entire system in the event of high pressure conditions. Thanks to the certification Carel has obtained for its Power+ products, this device can be used to ensure compliance with current regulations and protect both the inverter and the compressor, without needing a specific contactor. In the new Power+ family, this function has been integrated into the inverter. |
| | The new Power+ incorporates "class B" safety software, certified in accordance with EN/UL60730-1, so as to protect the compressor against abnormal conditions such as overload and locked rotor. This innovative feature makes it possible to certify the refrigeration unit in compliance with international safety standards, without requiring additional components to protect the compressor, saving time and considerable costs. |
| | Through continuous research into a product that is optimised for end-user applications but at the same time versatile, Power+ guarantees high energy performance for units ranging from residential heat pumps to refrigerated cabinets and computer room air-conditioning systems. All this is made possible by the choice of 48 potential versions during the design stage, offering customers ample possibility to customise the product according to their needs |
| | The new Power+ family comes with EN/UL 60730-1 and EN/UL60335-1 certification, typically required by OEMs for residential refrigeration units. |
| | The new Power+ family features the most modern technologies in the field of electronics for mitigating conducted and radiated electromagnetic emissions, so as to obtain the lowest levels of electromagnetic emissions (EMC) required in residential environments. Carel also offers a complete solution regarding harmonic emissions, with a series of filters in combination with the Power+ family inverters to fulfil the most stringent regulations. |
For more information, visit our website and our stand no. 5-306 and 5-308 in hall 5.