Green industries for the planet
It is now clear that tackling climate change and pursuing environmental sustainability across all economic sectors is today's greatest challenge. It is also an opportunity to build a new economic model that everyone can contribute to.
There is more and more talk about the energy transition towards zero carbon, about targets for achieving zero emissions, the Green Deal, compliance with the F-Gas directive, energy saving plans, plans to increase the energy efficiency of all buildings and systems, and many other opportunities and challenges for achieving and maintaining a status quo that will let enjoy planet Earth for a long time to come.
At the same time, the world's population is continuing to grow and consequently so is the demand for materials. Commodities form the basis of the goods and services consumed and invested in by households, governments and businesses around the world. In the period from 1970 to 2019, global extraction of biotic and abiotic (non-living) materials increased by more than 210%, reaching 96 billion tons in 2019. This trend is still growing, and industry and its ability to adapt clearly have a leading role in managing this important context.

It is likewise widely recognised that industry accounts for nearly 40% of current global energy consumption, the majority of which still comes from fossil fuels. Industry - the second largest producer of polluting emissions after power generation - will therefore in the future need to depend more and more on electricity, which will gradually replace fossil fuels: it is evident that industrial processes and their systems can greatly benefit from highly-efficient technologies, which will be increasingly used by markets to achieve many social, economic and environmental objectives in the short, medium and long term.
With extensive experience in the use of natural refrigerants and the proposal of energy saving solutions, CAREL is ready to face the current challenges and opportunities that arise in industry, in particular in the process industry sector, proposing μChiller Process for small and medium-sized process chiller market, plus advanced programmable controllers for larger process chillers.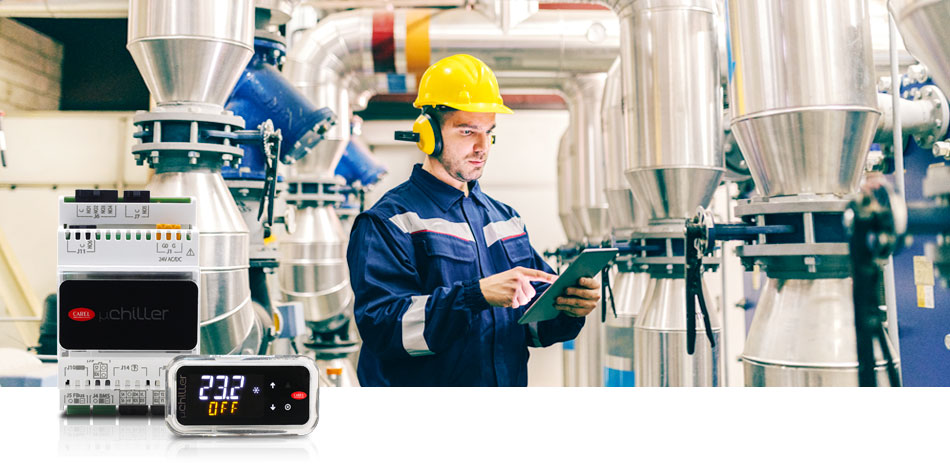 The μChiller family is the CAREL solution for complete management of commercial air/water and water/water chillers and heat pumps with on-off and/or DC compressors; specifically, μChiller Process is the only parametric controller with innovative connectivity features that can manage all the typical functions required for process chillers to ensure ample usability, including hot gas bypass and tank management, control of two user pumps, and the possibility to manage two auxiliary loops in addition to control of the main refrigerant circuit.
μChiller Process meets the main requirements of this sector, such as compatibility with the current F-gas regulations, and is ready to operate with natural and low-GWP refrigerant gases, such as CO2, R290, R32, R452B, R454B, R513A and many others. In addition, end users can make use of advanced local and remote connectivity functions for simple, fast, and intuitive system management, including through dedicated apps for smartphones and tablets (Applica).
The μChiller Process family portfolio, together with electronic expansion valves, drivers, compressors, sensors and many other accessories, are part of the range of CAREL solutions classified as A2L ready and A3 ready and therefore meet the certification requirements for use with flammable gases; μChiller Process can therefore be easily integrated into bundle solutions, ready to be used by unit manufacturers to achieve the required objectives in terms of high efficiency, safety and electrical compliance, as well as fulfil the latest technical requirements for industrial HVAC applications, requirements that will also shape the future of the market.
Learn more about
---
Explore the possibilities of mobile interaction Apps μchiller series
Download
---
The solution for chillers in industry