DC Technology for high efficiency solutions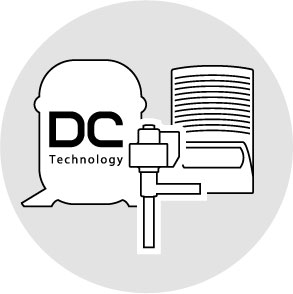 Energy efficiency has been a consolidated requirement for years now, especially in commercial refrigeration.
The main driver is the normative context (in Europe through the Eco design requirements).
Not only have increasingly strict requirements been introduced, yet the need to display the energy consumption of refrigeration units (Eco labelling) allows direct, transparent comparison between the various solutions that end users can find on the market.
The second driver is the increases in the cost of electricity, as a consequence of the current geopolitical context in Europe and beyond.
What does CAREL propose to improve efficiency in commercial refrigeration applications?
For more than 10 years now, CAREL has been proposing to achieve energy efficiency through the concept of continuous modulation of performance.
Continuous modulation can be achieved through the synchronised action of a variable-speed compressor with BLDC technology, combined with an inverter and electronic valve.
This makes it possible to optimally meet the load requirements of the specific refrigeration unit, adapting to the daily and seasonal variability in refrigeration load.
Why choose a BLDC compressor?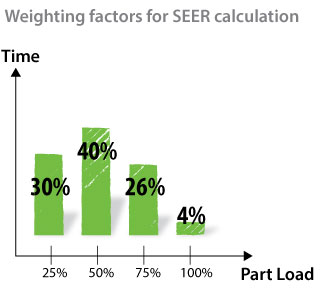 The main benefits of BLDC compressors are:
higher energy efficiency through the use of permanent magnet motors, which do not use electricity to magnetise the stator;
better reliability ensured by brushless motors and a reduction in the start/stop cycles typical of on/off solutions;
a wider range of rotation speeds than other variable-speed solutions, meaning a more compact size for the same capacity;
a very wide modulation range (25-100%), thus maximising the benefits of continuous modulation.

What are the advantages of using the CAREL compressor/driver package?
CAREL has decades of experience in driving BLDC compressors and has developed a wide range of inverters that are already qualified for operation with the specific compressor.
The electrical qualification process is extremely rigorous and represents the heart of CAREL's know-how.
The result is on one hand, precise control of the compressor in any condition, for maximum efficiency and control quality, and on the other, the possibility to increase system reliability through advanced protection functions, such as automatic envelope management.
CAREL's inverters come with a complete package of certifications and can be equipped with class B firmware for more cost-effective integration by OEMs. Class B certified software protects the compressor in the event of an overload or locked rotor, saving the cost of additional protection components.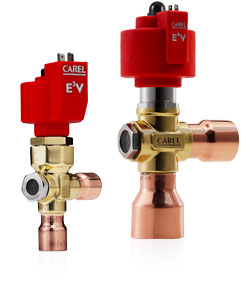 What are the advantages of the electronic valve?
The electronic valve, combined with the use of a BLDC compressor, helps maximise system efficiency. How? By precisely modulating the flow-rate of refrigerant into the evaporator; moreover, it reduces the load on the refrigeration cycle and consequently allows the compressor to run at lower speeds.
In addition to all this, the electronic valve also increases system reliability and consequently reduces maintenance costs, as:
it does not require periodical calibration;
safety logic can be applied (oil washing, MOP, LOP, etc.);
predictive maintenance can be carried out thanks to perfect knowledge of how the system is operating (identifying non-standard conditions).

Which CAREL solutions use DC technology?
CAREL high-efficiency solutions that apply DC technology in commercial refrigeration can be divided into two main families:
solutions for decentralised systems, where the refrigeration units are served by multiple small-sized condensing units (Heos system);
solutions for centralised high-efficiency systems as alternatives to traditional compressor racks (Hecu and Multi DC).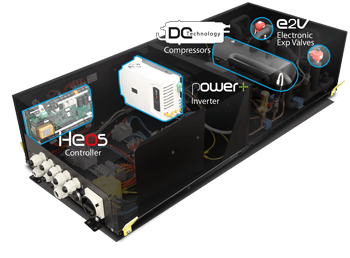 this is available for all types of refrigerants (CO2, R290 and A2L), featuring modular architecture and software logic optimised for the specific type of refrigerant;
a wide range of compressors is available, capable of individually satisfying cooling capacities up to 12 kW, for refrigerated showcase or cold room applications;
available both as components (target OEMs) and as complete condensing units (Heosbox).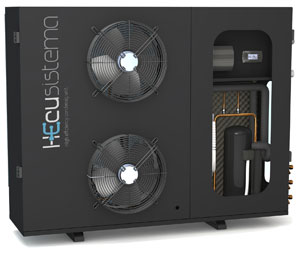 the complete solution for condensers, available for CO2 and HFCs/HFOs;
wide compatibility with DC compressors with capacities up to 8 kW for CO2 and up to 25 kW for HFCs;
ideal for convenience stores and small supermarkets.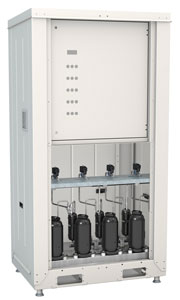 Multi DC
an efficient rack with DC rotary compressors only, it features the best in CAREL technology resulting from extensive experience with transcritical CO2 systems, plus a patented oil management system;
wide modulation range, from 5 to 100% of nominal capacity, it can manage up to 6 medium temperature compressors (around 45 kW) and up to 2 low temperature compressors (around 12 kW);
ideal for both new installations and retrofits, even in city centres, thanks to its compact size and low noise.
If you want to find out more about these solutions, we invite you to come and see the presentation by Federico Ferrari, Application Specialist Retail Solutions , who will describe "An innovative R-744 system goes offshore: fully modulating racks for ships and boats".

When & Where
Wed, 12.10.2022, 10:00 – 10:20
Hall 7A Booth 7A-616