The cutting edge in refrigeration controller performance
The events that have defined the last two years in our society, firstly the pandemic and subsequently the rise in inflation, have brought changes to many aspects of people's everyday lives.
These events have directly or indirectly boosted the trend that sees greater awareness of the key role that food quality, cost savings, environmental impact and the value of time have in people's lives.

How can refrigeration contribute to these aspects?
The "cold chain" accounts for around 20% of global electricity consumption. More aware technological choices can therefore have a direct impact on energy consumption, and at the same time significantly improve environmental impact and the quality of food preservation, thus becoming a positive factor for change in a crucial sector.
What is CAREL's proposal to improve the key aspects mentioned above?
The MPX and Heos ranges represent the solutions for the complete management of supermarket refrigeration units, guaranteeing:
food preservation quality;
energy efficiency;
lower environmental impact;
easy use.
At Chillventa, CAREL will preview the evolution of the Heos control: HeosPRO, a solution in continuity with the MPX range from a usability and connectivity point of view for a common family feeling.

How can food preservation quality and energy efficiency be ensured simultaneously?
Optimal food preservation is achieved by stabilising the unit control temperature, while energy consumption is reduced by using advanced control logic and modulating devices. This can be done by:
integrated management of an electronic expansion valve (EEV) that, based on the unit operating conditions, precisely controls the flow of refrigerant into the evaporator (cooling capacity required), significantly reducing temperature fluctuations in the showcase (stable temperature).
controlling a variable-speed compressor (VCC frequency control, CAREL DC solution) which, by modulating its capacity according to cooling demand, reduces the continuous ON-OFF cycles of traditional compressors, thus increasing efficiency and eliminating energy waste.
What actions have been taken to reduce environmental impact?
Limiting the energy consumption of the various refrigeration system components is just one of the ways to achieve environmental sustainability. Together with this, reducing direct CO2 emissions plays an important role in commercial refrigeration. This can be done by using environmentally-friendly refrigerants, with a low GWP (Global Warming Potential).

CAREL, which has always paid significant attention to sustainability issues, offers refrigerant neutral solutions: all versions of the MPXzero, MPXone and HeosPRO can be used with any type of refrigerant, even highly flammable gases (A3) such as propane (R290).
This is made possible by supplying controllers with a complete package of international certifications, thus facilitating their implementation into the units by OEMs.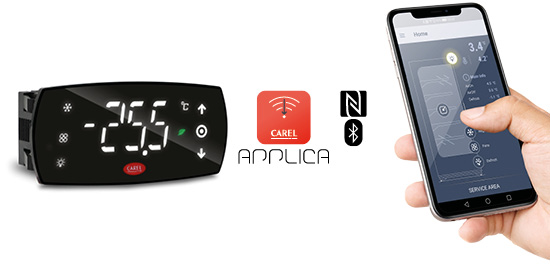 How can advanced technologies and high performance be combined with ease of use?
Controllers in the MPX and Heos ranges come with NFC and Bluetooth connectivity.
Using specially-developed apps for mobile devices, the functions of a traditional display can be extended and made available on any smartphone.
This therefore guarantees:
simpler unit commissioning and configuration (with wizards)
optimised content management (with local or remote storage)
quick understanding of unit operating conditions (status, alarms)
Ease of use is also assured through a common family feeling between the different products, both functionally and aesthetically, using the latest-generation user interfaces with touchscreen displays and a modern design.